What can Picasso teach business people about simplicity? Plenty! Marvelous article in The NY Times about how Apple uses Picasso to teach its employees to keep Apple products as simple, but as elegant, as possible. That same simplicity principle applies to all your business communication: emails, elevator pitches, proposals, PowerPoint slides, blogs, articles, answers to questions, etc. Often said in other ways such as "Less is more" (think about perfume or cologne) and "K.I.S.S.," Keep It Simple, Stupid, the notion of simplicity in communication pays off in at least three ways.
First, simplicity is memorable. Our brains are wired to retain very little in short term memory, so fewer meaningful words are better than longer convoluted explanations.
Second, simplicity resonates. We get it. We relate to it.
Third, and perhaps most important, simplicity spurs curiosity to know more
Suppose you asked me what my firm does, which answer appeals more?
A. "We help executives, salespeople, and professionals in diverse industries communicate in their various formats to all their constituencies, internal and external, friendly and hostile, to achieve pre-determined goals and objectives and we do this through a variety of modalities including in-person one-on-one coaching, online coaching, small group workshops, and large group training sessions.
Whoa! Too much, too general, too long and, unfortunately, too representative of what too many salespeople do in real life. Compare your reaction in A to the answer in B.
B. We help you get the results you want in all presentation situations. (Or, if you want to be a bit more creative, We help you turn presentations that tell into buyer experiences that sell.)
I suspect you preferred the second response. A simple statement like either of these is far more likely to open the door to questions, conversation, and more real connection with you than that first long-winded description.
Check yourself
Do your messages attract with their simplicity or alienate with too much blah, blah, blah? As Steve Jobs said, "Simple can be harder than complex: You have to work hard to get your thinking clean to make it simple. But it's worth it in the end because once you get there, you can move mountains."
Anne Miller
P.S. Read the full NY Times article here.
---
Random Quotes on the Power of Simplicity Steve Jobs was not alone...
"If you can't explain it to a six year old, you don't understand it yourself." Albert Einstein

"Simplicity is the ultimate sophistication." Leonard de Vinci
"Any darn fool can make something complex; it takes a genius to make something simple." Pete Seeger
---
Want Your Presentation or Demo to Engage, Excite, & Sell? Afraid it isn't all that it could be?
Call today and turn your information that tells into experiences that sell.
212-876-1875 amiller@annemiller.com
"Thanks to you, our presentation went very well…I am in awe at how you are able to analyze a situation and help me focus in on the key points that need to be clarified and emphasized. You make it look easy, but I know it is not! Lynn Hutzel-Visel, VP, Comerica Bank
---
A Great Way to Add Impact ( to the tune of $

2Billion

in one case) with Simplicity is with Metaphors. Learn how in "The Tall Lady With The Iceberg:
The power of metaphors to sell, persuade & explain anything to anyone!
by Anne Miller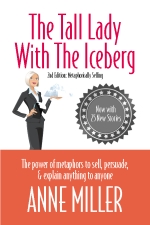 "Filled with fresh thinking, this book should be a "must read" for all salespeople and business leaders who want to take their commication skills to the next level." Jill Konrath, Author "Agile Selling"
"Trying to sell without metaphors is like running a marathon barefoot. It can be done, but...not without a certain amount of pain. This book will help you master the art." Sam Hill, Author, "Radical Marketing"
A "Top Sales Book of the Month" by Top Sales World
---
Words Matter - Make What You Say Pay!
If you find these posts helpful, please share with friends, colleagues, and clients. Thank you!