What I love about the Internet is that the world is at your door and when something valuable comes to my attention, I can share it with you. In this case, it is a blog written by London-based creative copywriter Konrad Sanders. What Konrad writes about copy-writing is 100% applicable to your sales conversations and presentations. As he says, "Whatever industry
you're in, nobody wants to read (hear or see) lifeless, humdrum, jargon-filled content." And he shares 10 analogies to inspire you. Click here, enjoy, and adapt to your world.
Anne Miller
Words Matter - Make What You Say Pay!
---
Random Recommendations
Shorten your sales cycle and increase business more quickly

:

If you are not using Insidesales.com, you should visit their site now

.

InsideSales

offers cutting-edge technology to accelerate sales with science. (I am an affiliate)
Put together perfect pitches on the run

. Perfect Pitch 24 delivers a centralized content management system that places all sales and marketing videos, images and documents right at your fingertips making it easy and seamless to present the right message to the right customer at the right time. ( I am an affiliate.) Click 30 Day Free Trial - Start Now!

( I am an affiliate.)
---
A great story delivered with confidence gives you a surefire win in meetings.
You either have confidence, manifest it, & instill it in others -- or you don't! Make sure you've got it! Download Your Complimentary Copy Now of my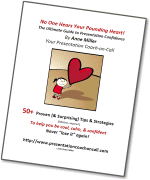 popular ebook: "No One Hears Your Pounding Heart! The Ultimate Guide to Presentation Confidence" 50+ tips from business, celebrities, and thought leaders. (Particularly like the one about stilettos!). Never lose it again! Get it today.Share it with friends.
---
Need Help With Your Presentation or Demo?
Call today and turn your information that tells into an experience that sells.
212-876-1875 amiller@annemiller.com

"I sing your praises every opportunity I get." Partner Regent Atlantic Capital LLC

"I still use what you taught me thirteen years ago!" CEO, #1 luxury website

"Thanks to you, our presentation went very well…I am in awe at how you are able to analyze a situation and help me focus in on the key points that need to be clarified and emphasized. You make it look easy, but I know it is not! Lynn Hutzel-Visel, VP, Comerica Bank