Technology changes (CRM). New crises arise (privacy and Facebook). Fashions change (ripped jeans). However, the ingredients for a winning presentation remain remarkably the same.The following five tips for winning presentations are as valid today, if not more so, than they were ten years ago when I first wrote this article. Do you agree?
1. Respect the Rule of 3
We talk and remember in 3's. There is music to a list of three things. Red white & blue, 1 2 3,, X Y Z, bacon lettuce and tomato. Leave people with three things to remember. If you have more than three, then put them into three groups.
2. Make "Presentation Sandwiches" to ensure relevance and retention
State the point of your information first, e.g., "This system is easy to use."

Explain the information.

Then, underscore or echo the point again, particularly if the information was complex. E.g., "Again, your people will

be able to master the system right away."
3. Honor this old Chinese Proverb: "I tell you, you forget. I show you, you remember. I involve you, you understand."
The best presenters play at the "show" and "involve" levels. The worst at the "tell" level. For example, if I tell you that tennis is played on a 78 foot court, 37 feet wide, with two to four players, each holding a racket and the object of the game is to get the ball over a net so that it lands within certain court lines, you don't have a very good feel for the game. However, if I showed you a video as I was explaining it, or put you on the court with a racket and played with you, you would have a much better idea of what the game is about. That is the difference in impact and understanding, between telling and showing and involving.
In presentations, that means a liberal use of examples, analogies and stories to add color to your information.
4. Avoid Qualifiers.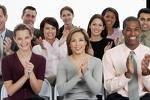 When you fly, you don't want to hear your pilot saying, "Good morning, folks. I think we are headed for San Francisco and hopefully we will arrive on time. Enjoy the flight." You want to hear, "Good morning folks. We are on our way to San Francisco and are scheduled to arrive on time. Enjoy the flight."
Similarly, don't load your presentations with qualifiers as in "Hopefully, this will solve the problem." "I think we can do this." "If you do this, hopefully you might save money."
Replace qualifiers with positive language: "When you use this, the record shows it will help solve the problem."
5. Take Message Control after Q&A
In a group situation, after questions and answers, most people simply say "Thank you."
Big mistake.
People remember the last thing they hear. You certainly don't want them leaving the room with the answer to the last question ringing in their ears, particularly if it was a minor or controversial question.
Instead, take control and jump back to a quick summary. "Thank you for your questions. To quickly recap, the situation is X. We've recommended Y, which will give you a, b & c." Then, move to the Next Step e.g., "Again, we'll be in on the 10th to review the proposal in detail. See you then.
As the French say, "Plus ça change, plus c'est la même chose," which means the more things change, the more they stay the same. Embrace new technologies for sure, but not at the expense of fundamental principles about people.
Anne Miller
Words Matter - Make What You Say Pay!
---


Bulletproof Your Presentations With These & Other Tips!

Call today and turn your information that tells into a story that sells. 212-876-1875 amiller@annemiller.com
---
If you like these posts, please share with friends, clients, and colleagues. Thank you!
Comments