Did the title of this blog make you want to read it? Would you have been more intrigued by "Is Your Title Killing Your Presentation?" According to research compiled on the website Buffer, numbers and questions are only two of eight proven title techniques to grab attention and make listeners (or readers) want to hear more. Think about what you write and present as you read this.
Can You Believe This? (This sub-title is another technique)
Years ago I wrote a book called 365 Sales Tips for Winning Business,* that was then made into one of those one-a-day calendars you frequently see on gift tables at Christmas.
When the calendar publisher sent me the cover for approval, it said, "Sales Tips for Winning Business." I immediately called to complain and he couldn't understand why I was so upset. To make my point, I said, "Would you rather read a book called, 'Ways to Make Love' or '101 Ways to Make Love.'?" He got the point and corrected the title.
It's the difference in appeal from "Habits of Highly Effective People" and "The 7 Habits of Highly Effective People" or "Ways to Die in the West" and "A Million Ways to Die in the West." Small or large, there is something about a number that suggests both predictability, which our left brains love, and uniqueness which our right brain gets excited by.
Never Be Boring Again (Another title technique)
More recently, I coached a woman who was speaking at a wood trade association about laws requiring lumber companies to track their wood from point of departure to point of arrival. Her original title was a yawner like, "Legal Requirements for Transporting Lumber." We quickly changed it to "It is 10 PM. Do You Know Where Your Wood Is?" Much more intriguing for your listener's right brain.
Your Turn
All your great content and hard work may be in vain if you cannot immediately hook the attention of your readers and listeners to get into the material. Try this exercise: Look at a recent blog, article, ebook, white paper, book, proposal, speech or presentation and compare its title to the techniques described in the Buffer article. What would you change?
Anne Miller
*P.S. Limited supply available of complimentary copies of "365 Sales Tips" - 10 chapters, 30 tips per chapter, dealing with each phase of the sales call from Probing to Negotiating. Written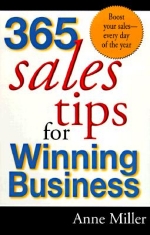 years ago, the tips are as valid today as they were then. I have some books left in inventory. Happy to send complimentary copy for price of postage & handling ($5.95) Send check to Chiron Associates, Inc., Box 624, NYC NY 10163 to get your copy.
---
Random Recommendations
Shorten your sales cycle and increase business more quickly: If you are not using Insidesales.com, you should visit their site now.

InsideSales

offers cutting-edge technology to accelerate sales with science. It's a global leader in cloud-based sales acceleration technologies and solutions that creates high-performance sales teams with breakthroughs in enhanced communications for immediate response, predictive analytics for lead prioritization, and data visualization for an immersive experience with sales data. (I am an affiliate)
Put together perfect pitches on the run. Perfect Pitch 24 delivers a centralized content management system that places all sales and marketing videos, images and documents right at your fingertips making it easy and seamless to present the right message to the right customer at the right time. (In the spirit of full disclosure, I am an affiliate.)

Click

30 Day Free Trial - Start Now!
---

Confidence is a hot issue these days. You either have it, manifest it, & instill it in others -- or you don't! Make sure you've got it! Download Your Complimentary Copy Now of my popular ebook:
"No One Hears Your Pounding Heart! The Ultimate Guide to Presentation Confidence" 50+ tips from business, celebrities, and thought leaders. (Particularly like the one about stilettos!). Never lose it again! Get it today.Share it with friends.
---
Words Matter -- Make What You Say Pay!
If you like these posts, please share them with friends, colleagues and clients. Thank you. And, remember, you can always call me at 212 876 1875 for a free 15 minute consultation.
---