A recent client introduced me to a real treasure, literally, by the name of Julian Treasure, who is the most refreshing, original, and accomplished presenter I have seen in a long time. And I am excited to share him with you. As you watch his ten minute Ted Talk video, see how many best presentation practices (interest, flow, visuals, variety, voice, etc.) you notice and how many you can incorporate into your own presentations and conversations.
Treasure's talk, "How to Speak So That People Want to Listen," is a must view for anyone who is serious about selling, influencing, persuading or building relationships with others.
We declared our independence from the British more than 200 years ago, but Treasure is one Brit you may well want to know further. Enjoy the video.
Anne Miller
P.S. Julian Treasure is the chair of the Sound Agency, an English firm in the unusual business of advising worldwide businesses -- offices, retailers, hotels -- on how to use sound. He asks us to pay attention to the sounds that surround us. How do they make us feel: productive, stressed, energized, or acquisitive?
---
Random Recommendations
Shorten your sales cycle and increase business more quickly

:

If you are not using Insidesales.com, you should visit their site now

.

InsideSales

offers cutting-edge technology to accelerate sales with science. (I am an affiliate)
Put together perfect pitches on the run

. Perfect Pitch 24 delivers a centralized content management system that places all sales and marketing videos, images and documents right at your fingertips making it easy and seamless to present the right message to the right customer at the right time. ( I am an affiliate.) Click 30 Day Free Trial - Start Now!

( I am an affiliate.)
---
A great story delivered with confidence gives you a surefire win in meetings.
You either have confidence, manifest it, & instill it in others -- or you don't! Make sure you've got it! Download Your Complimentary Copy Now of my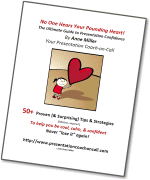 popular ebook: "No One Hears Your Pounding Heart! The Ultimate Guide to Presentation Confidence" 50+ tips from business, celebrities, and thought leaders. (Particularly like the one about stilettos!). Never lose it again! Get it today.Share it with friends.
---
If you like these posts, please share them with friends, colleagues, and clients. Thank you.