Remember Aesop's story of the little shepherd boy who cried wolf? He cried wolf so often when there was no wolf that when one appeared and he cried for help, no one came and the wolf ate all the sheep. I was reminded of that story this week as I listened to an otherwise personable young man (let's call him Bob) walk me through a demo of his software.
Everything he showed me was "magical."
Now, the first time I heard him describe one of his product's features as "magical," I was intrigued. "Magical" is not an adjective often used in describing software. The second time he used the word, I was okay with it. But when he used it the next third, fourth, and fifth times to describe every feature, the word lost both its Impact and, perhaps worse, its credibility for me, the buyer. "Magical" suddenly became annoying and meaningless background noise, like elevator music. How could EVERYTHING be "magical"? It's like saying all children in a particular class are "exceptional." If they are ALL exceptional, then, "exceptional" must be the new, unimpressive "average."
Watch Your Language
Bob needed to appreciate how listeners' brains work to maintain intrigue for his "magical" claim.
Too much repetition and people tune you out. (Ask the little boy who cried wolf!)
People are wired to be curious about what is new and different. Mix up your adjectives to keep the descriptions fresh. Bob could have used a mix of these to support his "magical' claim:

Innovative, surprising, unusual, unique, fascinating

.
People fear missing out on good stuff and are interested in what others are doing and want the same benefits or results. Bob could have used phrases like these, which, again, would have supported his "magical" claim:

What clients particularly value /get excited by/rave about/find amazing about /really enjoy about X is

…
Then, when he concluded, Bob's claim of "magical" software would have resonated much more deeply.
As Mark Twain said, "The difference between the right word and the almost right word is the difference between lightening and a lightening bug."
Replace the lightening bugs in your presentations and demos with lightening!
Anne Miller
Words Matter - Make What You Say Pay!
---
Announcement: Attention NJ/NY readers. Save the date. One time only seminar in Princeton, NJ, March 5th, 9-12 "Turn Information That Tells Into Experiences That Sell" What worked in presentations and demos in the past won't work in the future. Find out how to really make your presentations sell Click here for details.
---
Create sales magic with metaphors! Order my book today!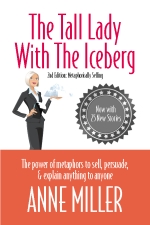 Now Available in print, on Kindle & as Audiobook
The Tall Lady With the Iceberg: the power of metaphors to sell, persuade, & explain anything to anyone.
"Filled with fresh thinking, this book should be a "must read" for all salespeople and business leaders who want to take their communication skills to the next level."
-Jill Konrath, Author, Agile Selling.
*Chosen a Top Sales Book of the Month by Top Sales World*
---

Need More Presentation/Demo Power for Yourself or Your Team?
Call today and learn how to turn information that tells into a story that sells.
212-876-1875 amiller@annemiller.com

"I sing your praises every opportunity I get." Partner Regent Atlantic Capital LLC

"I still use what you taught me thirteen years ago!" CEO, #1 luxury website

"Thanks to you, our presentation went very well…I am in awe at how you are able to analyze a situation and help me focus in on the key points that need to be clarified and emphasized. You make it look easy, but I know it is not! LynnHutzel-Visel, VP, Comerica Bank

"Anne understands what audiences look for and pushes you beyond what you thought you were capable of... A real pro who will help you hit it out of the park." Mary Anne Doggett, Partner, Interactive-Communications
---
If you like these posts, please share them with your friends, colleagues and clients. Thank you!