Salesperson or "Racehorse in sales?" Training pro or "a dopamine injection for you?" How would you like to be described? Who would you want to meet?
When it comes to getting new business or new jobs, referrals and introductions are the way to go. However, what someone says about you, or what you say about someone else, frames that person in the mind's eye of the reader or listener and may intrigue you---or not. The queen of intriguing introductions has to be Dawn Mckenna, Founder of ResumeSalt (see Metaphor Minute newsletter). I asked her to Introduce me to a fellow named Mark for some industry insight that I wanted. Here's what she wrote...
Per my 1:1 conversations with you both, it brings me immense pleasure to introduce the two of you.
Anne- Mark is a Racehorse in sales, who found his new track at (XYZ) company where he is leveraging his highly successful career in technology sales and new market penetration to extend their brand across the region.
Mark– Anne will be a dopamine injection for you! She enables technical and demo pros to transform complex information into simpler, meaningful messages that persuade. I am positive the two of you will hit it off and perhaps find a way to work/help each other in the process.
Get Creative
Not your usual "Anne does… and Mark does.. "introductions. "Racehorse in sales!" "Dopamine injection!" Energy, power, speed, success all captured in two images. I couldn't wait to talk to Mark and I suspect he felt the same way about me—all because of Dawn's dramatic metaphoric descriptions.
The next time you are asked to present someone in an email, think of the most vivid image you can to describe them. If given the opportunity to write your own description, do the same. Remember Mark Twain's s saying: "The difference between the right word and just any word is the difference between lightning and a lightning bug."
Be the "lightning."
Anne Miller
Words Matter--Make What You Say Pay!
---
Create impact with metaphors in ALL your communications! Order my book today!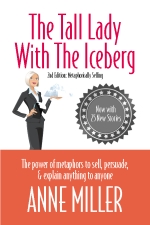 Now Available in print, on Kindle & as Audiobook
The Tall Lady With the Iceberg: the power of metaphors to sell, persuade, & explain anything to anyone.
"Filled with fresh thinking, this book should be a "must read" for all salespeople and business leaders who want to take their communication skills to the next level."
-Jill Konrath, Author, Agile Selling.
*Chosen a Top Sales Book of the Month by Top Sales World*
---

For Killer Presentations and Demos...
Call today and learn how to turn information that tells into conversations that sell.
212-876-1875 amiller@annemiller.com

"I sing your praises every opportunity I get." Partner Regent Atlantic Capital LLC

"I still use what you taught me thirteen years ago!" CEO, #1 luxury website

"Thanks to you, our presentation went very well…I am in awe at how you are able to analyze a situation and help me focus in on the key points that need to be clarified and emphasized. You make it look easy, but I know it is not! LynnHutzel-Visel, VP, Comerica Bank

"Anne understands what audiences look for and pushes you beyond what you thought you were capable of... A real pro who will help you hit it out of the park." Mary Anne Doggett, Partner, Interactive-Communications
---
If you like these posts, please share them with your friends, colleagues and clients. Thank you!