One of the best experiences of my life was fulfilling a lifelong fantasy: belting out a song like Barbara Streisand from a stage. Well, I didn't exactly sound like Streisand and I wasn't exactly on a big Broadway stage, but I DID sing my heart out on a small cabaret stage in front of a live audience in NYC as part of "The Singing Experience" workshop run by cabaret producer and director Linda Amiel Burns.. Why am I telling you this?
Because performing for fun pays off when you have to present for business
We were a group of twelve very different people, ranging in age from 20 to 70, from worlds as different as TV sports casting, college, advertising, law, etc. Some people had good voices. Others, like me, were strictly shower singers. It didn't matter. LInda finds the right song for you. The only thing we had in common was the desire to sing. And sing we did! At a real club in NY. And the critics? Well, they loved us and why wouldn't they? The entire audience of about 150 people were family and friends, who cheered and applauded us all. What a high. In fact, I loved it so much, I did the workshop three different times. (At least one singer had done it about 85 times)
My secret performing desire was to sing. Yours might be to perform in a different area: stand-up comedy, dance, improv, magic, playing in a band, acting, or participating in a fantasy sports camp.
Common Threads
In all of these experiences, you practice, you experiment, you stretch yourself, you learn to manage your nerves, you refine your "act," you laugh a lot, and you ultimately enjoy the fruits of your hard work. Most important, you build your confidence,.which transfers to business for you.
It is normal to be nervous before a business presentation or a public speaking event. What you experience at those times is the rush of adrenalin the body produces to get you ready for a challenging situation. You want that rush. What you don't want is to be paralyzed by it. Performing in a world outside business allows you to deal more effectively with those pre-presentation jitters You realize that, nervous as you may be, no one ever dies of a presentation! And you won't either.
After a workshop experience like The Singing Workshop, it becomes much easier for you to maintain your cool and truly command a room when you present.
So, go ahead. Step outside your normal business world. Try a different kind of performance. What will it be? Acting? Fantasy sports? Improv? Other?
Enjoy!
Anne Miller
Make What You Say Pay!
P.S. Click here to see what The Singing Experience is all about and, even if this is not for you, be sure to scroll down and watch some of the "performers" on video. These folks are having a blast. If you you are in the New York metropolitan area, you are in time to sign up for the next Singing Experience Workshop, run by Linda Amiel Burns, called "Hit Parade" that begins in May.
---
Not ready for a workshop? Read my free ebook:
Download Your Complimentary Copy Now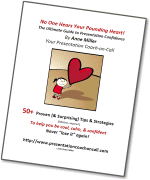 "No One Hears Your Pounding Heart! The Ultimate Guide to Boosting Presentation Confidence"
50+ tips from business, celebrities, and thought leaders.
(Particularly like the one about stilettos!).
Never lose it again! Get it today.Share it with friends.
---
If you like these posts, please share with clients, friends, & colleagues. Thank you!