Sports teams huddle. One senior publisher always wears a pair of stilettos. Another executive thinks of his kids. All of these people are performing a personal ritual prior to giving a high stakes presentation, speech or performance. They do this for luck, confidence, and focus. Sounds silly, but, hey, it works for them and for the results they produce. What are some things other big time business presenters do?
Good Karma Anyone?
Who better to ask than twelve advertising executives who have to present on a regular basis to accounts worth millions of dollars? That's exactly what Advertising Age did recently and here are three of my favorite unusual responses from that group.
Jared

Belsky

, President,

360i

: "The entire week before a pitch, I go into full-on pay-it-forward mode. Pay anonymously for tolls,

Dunkin'Donuts

, bagels or police/firemen breakfasts. Just try to get in a good karma place."
Matt Weiss, Managing Partner,

Havas

Worldwide NY: "I always wear the client colors—sometimes hidden, sometimes overt. I say the same mental prayer before every pitch—it's a secret. I've never revealed it in 15 years. Every pre-pitch morning, when possible, eggs, rye toast, well-done bacon and lots of hot sauce."
At Ketchum West: "This team likes to show a movie clip to get people in the right mindset. One example is the scene from 'Dead Poets Society' about understanding poetry. The point of showing the particular clip is that it's not about being perfect by the letter of the law. It's about being real, authentic and themselves."
What Do You and Your Team Do?
Are these things silly? Perhaps. From rain dances to high fives, rituals are as old as mankind. They reach out to the fates-that-be for support, strength, and help. They are human, harmless, and help make the difference between success and failure—at least that's what their creators believe. What rituals might you want to create for yourself? for your team?
Anne Miller
Words Matter – Make What You Say Pay!
To see all 12 Ad Age ritual stories, click here
---
For 50 Additional Tips on What People Do to Increase Presentation Confidence, Read my free ebook:
Download Your Complimentary Copy Now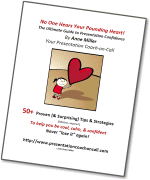 "No One Hears Your Pounding Heart! The Ultimate Guide to Boosting Presentation Confidence"
50+ tips from business, celebrities, and thought leaders.
Never lose it again! Get it today.Share it with friends.
---
If you want to forget rituals & get a professional presentation review to improve current results, then call today for your Personal Presentation Assessment.
Missing business?

No time for training?

Want to identify weak spots (Content, story, visuals, engagement, relevance, impact)?
Call today for details on how easy, cost-effective and practical it is to do an Assessment to fine-tune your presentations. 212 876 1875 or amiller@annemiller.com
---
If you like these posts, please share with clients, friends, & colleagues. Thank you!