Is there anything more awkward than having to negotiate with clients who have also become friends? You have these wonderful client relationships. You know about their family lives. They know about yours. It is always a pleasure to see each other. Then, that relationship hits a potential bump. It is contract renewal time or, as happened recently with one of my clients,your company shifts its business model, and suddenly your interests and your clients' interests may no longer align perfectly around fees, resources, timing, or deliverables. How do you then handle that potentially difficult conversation to resolve the differences between you?
Switch Hats
Years ago, a mentor solved this problem for me. She advised that when you have to negotiate, or, for that matter, have any kind of difficult business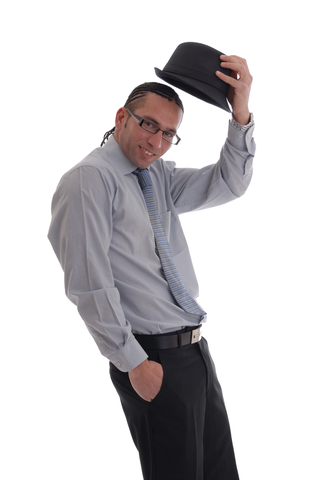 conversation with clients (or colleagues), simply say, "For this conversation, let's take off our personal hats for a moment and put on our business hats."
That simple metaphorical suggestion re-frames the entire dynamic of your meeting. Vision drives action. That subtle mindset switch does three things for both of you. It
Injects a needed level of clarity and objectivity into the discussion

Allows you both to deal and speak up for your needs and views as responsible business people

Reduces personal discomfort
Then, when your negotiation is finished, you simply say, "Okay, let's put our personal hats back on" and you are back to your original friendly relationship. Time to go to lunch!
Certain conversations are necessary. You may not be always be able to have your cake and eat it, too, but you can have a difficult conversation and still maintain your relationship.
Anne Miller
P.S. For a complimentary list of "Top 10 Tips Every Negotiator Should Know," contact me at amiller@annemiller.com
---
Random Recommendation Hubspot publishes very useful materials on a variety of sales, presentation, and online topics. Their latest on using PowerPoint more effectively is particularly good. Click here for their free download.
---
A Great Story Delivered with Confidence Gives You a Surefire Win in Meetings.
You either have confidence, manifest it, & instill it in others -- or you don't! Make sure you've got it! Download Your Complimentary Copy Now of my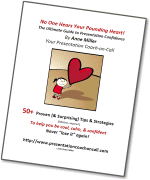 popular ebook: "No One Hears Your Pounding Heart! The Ultimate Guide to Presentation Confidence" 50+ tips from business, celebrities, and thought leaders. (Particularly like the one about stilettos!). Never lose it again! Get it today.Share it with friends.
---
Need Help With Your Presentation or Demo?
Call today and turn your information that tells into an experience that sells.
212-876-1875 amiller@annemiller.com

"I sing your praises every opportunity I get." Partner Regent Atlantic Capital LLC

"I still use what you taught me thirteen years ago!" CEO, #1 luxury website

"Thanks to you, our presentation went very well…I am in awe at how you are able to analyze a situation and help me focus in on the key points that need to be clarified and emphasized. You make it look easy, but I know it is not! Lynn Hutzel-Visel, VP, Comerica Bank
---
Words Matter - Make What You Say Pay!
If you like these blog posts, please share with friends, colleagues, and clients. Thank you!