BOOKS BY ANNE MILLER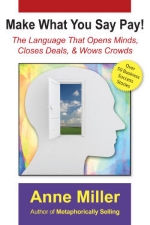 "As soon as you move one step up from the bottom, your effectiveness depends on your ability to reach others through the spoken and written word."
Peter Drucker
Make What You Say Pay!
by Anne Miller
Quantity(10+) & discount orders,
call BookMasters 1-800-247-6553
If you have to get things done through influence or persuasion--and who doesn't?--then Make What You Say Pay! is written for you. 50+ stories from across the business and media spectrum prove how you, too, can open minds, close deals, clear up confusion, and inspire others, all with a simple language tool as old as Aristotle and as new as the Internet: the metaphor. Tap into its power and revel in the results.
TELL ME MORE
for Male What You Say Pay!
"Anne Miller unleashes the energy of metaphors to give light and life to business conversations. She has wonderful stories to tell and her take aways make the point with clarity and brilliance. Think of this book as your own power generator in the vast brownout of business talk."
Sandra Sollod Poster, Ph.D,
Communications Consultant, Emmy Award Winner
"A great salesperson knows that closing requires faith, empathy, and a great yarn. That's also the way Anne Miller teaches - and writes about - the craft of selling. This is a book that will create value for everyone who reads it."
Randall Rothenberg, President & CEO,
Interactive Advertising Bureau
"While the 'arts' of speech, presentation and meeting dynamics are well ploughed earth in the business world, Anne Miller is a pioneer in the 'science of being heard.' In exploring the communicative power of the metaphor, she gives the gifts of impact and understanding to an attention starved business world. Open them and start using them today."
Doug Weaver, Founder & CEO,
Upstream Group
"In Make What You Say Pay, Anne Miller makes the use of metaphors so simply brilliant that anyone who reads this book will be able to improve their content and communication effectiveness at least ten fold. In a world where attention is limited and informational noise is high, the ability to catch attention and gain emotional buy-in is critical. The stories in this book will help you do exactly that."
Ardath Albee, CEO,
Marketing Interactions, Author,
"eMarketing Strategies for the Complex Sale"
"If you're struggling to capture the attention of today's crazy-busy buyers, this book is invaluable. It's filled with fresh ideas that make your message memorable and your prospects take action."
Jill Konrath, author,
SNAP Selling and Selling to Big Companies
"Metaphors work. In her first book, Metaphorically Selling, Anne Miller showed us the surprising and practical power behind the thoughtful use of metaphors in business. Anne has proven herself all over again in her latest book, Make What You Say Pay! She serves up her metaphorical wisdom through a fun collection of success stories and business case examples and shows us that the steel walls of misunderstanding can (dare I say?) 'melt like butter' when the right people can accurately visualize the right concepts."
Bill Wreaks, Chief Analyst,
The Journal of Financial Advertising & Marketing
"In this book Anne shows you how to build bridges that connect your ideas with those of your client, allowing you to communicate on a level that gets results."
Mark Mayer, VP Sales & Marketing
Aspen Technology Solutions, LLC.
"In this super-handy book Anne Miller gives tons of real world examples of how sales people can paint pictures that help buyers understand what they are all about. Net result: more money in your the pocket"
Nigel Edelsham, CEO,
Sales2.com
"Anne knows how to 'keep it simple' with the kinds of short stories of success and brain-expanding insights that every successful person has to have squirreled away, and that are so much fun to read, reread and think, 'I knew that!' A treasure trove of great reminders about acting and thinking smart."
Jim Fishman, Senior Vice President,
AARP Media Sales
"Anne Miller takes the pitch out of persuading and selling and shows you how to replace it with that 'aha' communication that gets your point across. Her metaphoric sidebars underscore how you take the plain vanilla out of business conversations and creatively make your metaphorical example titillate and resonate."
Jay Berfas, Group Publisher,
Advanstar Communications
for Metaphorically Selling
Introduction:
The Power to Open Minds, Close Deals, & Wow Crowds

Chapter One: Grab Attention
Don't Jump Without a Parachute
Catch 22
CSI: Angleton

Chapter Two: Overcome Resistance
Landing on the Beaches
Take it to the Cleaners
The ATM Moment
Curtain Up!
The Longest Rivalry

Chapter Three: Pitch in Five Seconds
School Daze
Rock On!
Bank On It
From Eskimos to Flying Buses

Chapter Four: Get Them on Board
No One Wears Shoes Here
Snap! Crackle! Pop!
How to Get Your Ex Back
I Hear You

Chapter Five: Un-Numb the Numbers
What's in Your Pocket?
For the Price of a Latte
How Big is It?

Chapter Six: Stand Out From the Crowd
Product Names That Pop
Website Wizardry
Titles That Tease

Chapter Seven: Explain New Concepts
The Pause That Refreshes
Drive, She Said
All the World's a (Web) Stage
Odd and Even Watering Days
Blast Off!
Puppet on a String

Chapter Eight: Avoid Information Overload
High Five
Cascades of Wealth
The ABC's of Economic Recovery

Chapter Nine: Deal with Drastic Situations
Go for the Gold(fish)
How Sweet It Is!
Snip!
Happy Holidays
Got Lunch Money?

Chapter Ten: Handle Public Pressure
Burning with Fever
The Home Run Judge
Mama's Wisdom
My Fellow Americans...

Chapter Eleven: Motivate & Support
On the Wrong Track
Walk a Mile...
Scale the Wall

Chapter Twelve: Shift the Paradigm
Never Let a Barber Do Brain Surgery
Minnow or Moby Dick?
Pick-Up Sticks

Chapter Thirteen: Bridge the Generation Gap
Speed Dating
Smash the Tomato!
Leave Out the Anchovies
Marathon Girl

Chapter Fourteen: Make the News
Extra! Extra!

Chapter Fifteen: Close the Deal
Make Mine Bud
Rest in Peace
Success in Black and White
Reeling in the Big Ones

Contributors & Sources
About Anne Miller


Author of Metaphorically Selling & Make What You Say Pay:

1. What made you decide to write a book about metaphors?
Anyone trying to make a point or make a sale is being swamped in today's market by the perfect storm of client/listener resistance and too much information coming at people too quickly about products, services, and causes which all begin to sound alike and ultimately blur in their minds -- which makes getting a result or commitment incredibly difficult. I saw my clients struggling to survive in this business maelstrom and. knowing the power of metaphors, I decided to write this book to help them.
2. What is it about metaphors that makes them such powerful communication tools?
Very simply, they drive home a point with a short, memorable, and emotional punch that information and logic alone do not have.
3. How is Metaphorically Selling different from other business books on the market?
Most books will mention the power of metaphors to sell. But many people feel they are not creative enough to think of metaphors. This is the only book that focuses on this topic exclusively with an easy to learn metaphor-making model, fun exercises for practical application, and over 250 examples to show readers how they can capitalize on this overlooked selling tool, beginning immediately.
4. What is the best use of metaphor you have heard and what results did it yield?
One of my favorites, which has been used by many of my seminar participants to close business in many situations is the following.
Problem: Someone is resistant to changing their current suppliers and is fighting the suggestion of testing your product, service, or idea.

Metaphoric Solution: "Mr. Client, you know that you can play a reasonable game of tennis with a strong forehand; you simply run around the backhand. But when you add a strong backhand, you are much more powerful in the game. The same is true with our (product, service, idea). Your current supplier is your forehand; keep it. Add our (product, service, idea) to what you are doing now and you will be much more powerful in your marketplace, your 'game,' as well."
This metaphoric logic is generally a winner!
5. What advice do you have for people who don't think they're creative enough to come up with winning metaphors?
Surprise! You are already a regular metaphor maker. Every time you say -- "My computer crashed." "We need a home run here in this meeting." "That's a train wreck waiting to happen." "Wish I could get a golden parachute!" -- you are using metaphors. This book helps you turn your natural tendencies to use metaphors in conversation into high pay-off strategies in business.
6. If you're not a salesperson or corporate executive, can you benefit learning how to use metaphors?
Absolutely. Though people may not realize it, everyone sells: managers justifying requests to senior management for people and resources; tech advisors explaining the merits of a particular system; advocates and fundraisers for a cause seeking support; parents arguing a point at a school board meeting; Presidents seeking to bind a nation to their vision. All benefit from the magic of metaphors to make their points and win others over to their side.
7. Why is now the right time for a book such as Metaphorically Selling?
The flood of information coming at everyone daily is increasing, not decreasing. More information is not the answer. In this environment, we need new tools and strategies to get our messages heard and remembered. Metaphors are those tools: they are colorful, memorable shortcuts to understanding.
Metaphorically Selling
shows you step by step how to become a Metaphorian.
Make What You Say Pay!
shows you how Metaphorians make the mundane magical, the dull dazzling, and the ordinary unforgettable.
CHALLENGE:
To get your message heard, remembered, and acted on in a world drowning in too much information.
SOLUTION:
Become a Metaphorian! Learn how to:
Develop hard-hitting metaphors quickly
Use metaphors to make a point, deflect resistance, simplify complex information
Create memorable openings and closings
Bring life to PowerPoint visuals
Present creatively with appropriate props
Maintain a metaphor making mindset
RESULTS:
Differentiation from competitors
Shortened closing cycles
Increased business & acceptance for your ideas