The Tall Lady With The Iceberg: The power of metaphors to sell, persuade & explain anything to anyone*
*Expanded Edition of "Metaphorically Selling", PLUS 25 fresh stories from people who have used visual language to get what they want.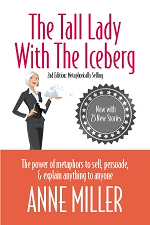 Book Description:
As the world becomes a noisier and busier place where people would rather tune you out than tune you in, communicating creatively is vital to any success campaign – in the office, in the Boardroom, on an interview, at a PTA meeting or on a Presidential campaign trail.
• Buy on Amazon ($16.95)
• Buy Audio Edition ($17.56)
• Buy Kindle Edition ($7.99)
Quantity (10+) & discount orders, call Anne, 212 876 1875
Make What You Say Pay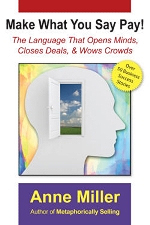 Book Description:
If you have to get things done through influence or persuasion–and who doesn't?–then Make What You Say Pay! is written for you. 50+ stories from across the business and media spectrum prove how you, too, can open minds, close deals, clear up confusion, and inspire others, all with a simple language tool as old as Aristotle and as new as the Internet: the metaphor. Tap into its power and revel in the results.
• Buy on Amazon ($14.95)
Quantity (10+) & discount orders, call Anne, 212 876 1875
"Anne Miller unleashes the energy of metaphors to give light and life to business conversations. She has wonderful stories to tell and her take aways make the point with clarity and brilliance. Think of this book as your own power generator in the vast brownout of business talk."

- Sandra Sollod Poster, Ph.D, Communications Consultant, Emmy Award Winner
"A great salesperson knows that closing requires faith, empathy, and a great yarn. That's also the way Anne Miller teaches – and writes about – the craft of selling. This is a book that will create value for everyone who reads it."

- Randall Rothenberg, President & CEO, Interactive Advertising Bureau
"In Make What You Say Pay, Anne Miller makes the use of metaphors so simply brilliant that anyone who reads this book will be able to improve their content and communication effectiveness at least ten fold. In a world where attention is limited and informational noise is high, the ability to catch attention and gain emotional buy-in is critical. The stories in this book will help you do exactly that."

- Ardath Albee, CEO, Marketing Interactions, Author, "eMarketing Strategies for the Complex Sale"
Metaphorically Selling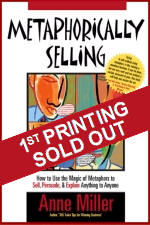 Book Description:
1st Printing SOLD OUT,
book has been Expanded
and Replaced by:
The Tall Lady With The Iceberg
365 Sales Tips For Winning Business
Book Description:
Tips is a rep's personal "coach on the run" filled with quick selling ideas, strategies, and techniques for the sales person on the go. A veritable "Zagat's" guide for selling.
Presentation Jazz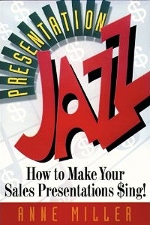 Book Description:
"Presentation Jazz" offers a unique, highly personalized way to quickly and easily structure a sales presentation for maximum impact. Presenting an original technique that uses visual cues or "notes", the book shows how to "score" a presentation as though it's a musical piece. The book covers the sales process from the first moments of the pitch to the heart of the sale to using creative materials to handling objections and unruly groups.